Detroit Music Awards (DMA)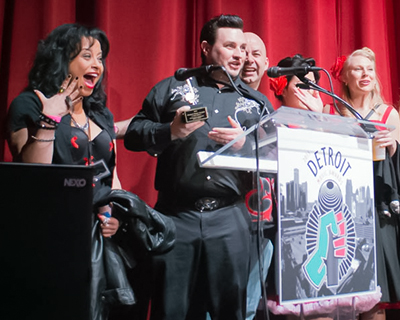 First presented by Motor City Music Foundation (MCMF) the Detroit Music Awards was initially proposed in 1988.
The primary aim of this show is to showcase the Detroit Musicians' talents and recognize them. The first show happened in 1992. It is now officially happening in Filmore Detroit, April month every year.
Detroit Music Awards celebrated its 26th anniversary on May 5, 2017, at Filmore Detroit Theatre by recognizing the local area musicians and honoring the veterans in the music industry for their great work.
It is usual event that various Detroit artists from different genres will perform at the event.
The Detroit Musical Awards are like Grammy awards.
The award winners are determined by local music artists and professionals from the music industry.
The Detroit Music Awards are the only award show in the US to be presented by a not-for-profit organization. Voting for these awards is done through internet.
The following are the various musical categories in the Detroit Music Awards,
Folk
---
Folk music is any style of music which represents a community and can be sung or played by many people. These people may not be professionals. Each country has their folk, but this is usually referring to American and British music.
Acoustic
---
Acoustic Music is the natural music derived from instruments that produce sound without any electric or electronics attached.
Jazz
---
This music genre is originated from American-African people. Jazz is rich in its artistic culture, distinguished by different tempo. Since the beginning, this musical genre has been continuously evolving, changing and expanding through different phases.
---
R&B – Rhythm, and Blues
---
Rhythm & describes the blues influenced the form of music predominantly performed by African-Americans since the 1930s. Some of the popular celebrities include Britney Spears, Pink and Gwen Stefani.
Hip-Hop
---
Also referred as rap music is a popular style of music in US late 1970s and became a most popular in the modern pop American culture.
Blues
---
The melancholic music developed in Southern US at the end of 19th century.
---
Gospel
---
Gospel is the spiritual music played as solo and responsive church singing of rural people living in Southern American. It is a part of Christian music.
Electronic
---
This genre of music is made using electronic instruments and computers. Sometimes special sounds are created using tape recorder too.
World
---
Popular music from different parts of the world which has a danceable rhythm
---
Rock
---
Rock music is a genre of music which is played out but electric guitars, metal guitars and bass drums. This genre is defined by heavy music. Some of the famous rock music celebrities are Elvis Presley, Elton John, Eminem, Mike Jagger, Avril Lavigne and much more.
Pop
---
Most of the popular hit songs are Pop music genre. The famous Pop music celebrities are Justin Bieber, Madonna, One Direction, K-Pop and much more.
Country
---
More likely similar to Folkstyle and developed in Southern US. The famous Country music celebrities are Taylor Swift, Carrie Underwood, Kelly Clarkson, Mariah Carey, Keith Urban and much more.
---